Thank you for considering Henry's Automotive Warehouse for your Automotive Fastener, Abrasives, and Specialty Supplies needs. Since our start in 1984, our goal has been to provide quality products at wholesale prices, while still providing the best service in the industry. We stock all of the items on this website and strive to ship all orders the same day. We are distributors for several fastener companies and we are also able to handle your other fastener needs on a special request basis, including bulk purchases.
We have taken the items which we've found to be most used by shops and offer them in different pack sizes as well as larger bulk quantities. Taking advantage of the discounted bulk pricing on top of our free fastener shipping can add up to huge savings! To help make life even easier, we designed a special piggyback packaging label that peels off. You can peel it off and apply it to your bin to help stay organized and to make re-ordering easy.
In 2017 Henry's joined the Raybuck Auto Body Parts family. Raybuck is one of the top destinations for aftermarket restoration parts for light duty trucks, vans, suvs and cars. The decision to bring the two companies together was easy as both focus on providing quality parts at fair prices, and providing outstanding customer service.
We are a small dedicated team that handle all calls/inquiries personally, and products ship directly from our warehouse in Pittsburgh. Our friendly, knowledgeable staff look forward to providing you with outstanding service across our wide selection of automotive and autobody supplies. We look forward to continuing to service you for all of your fastener and body panel needs.
Sincerely,
Steve DeFrancesco
In 1993, after many years of trying to properly label hardware bins, we designed a special packaging label to make the job easy as well as effective. We now use a Piggyback" double layer adhesive "Peel-Off" package label. The first layer sticks to the hardware box with a second carrier layer so you can peel the label off with a new adhesive layer and affix our "new" Bin Label to your cabinet. No more cutting box tops or having to glue parts all over the drawer fronts.
Keep Your Bins Organized With Our
" Peel Off " Bin Labels Packaging
We Use A "Piggyback" Double Adhesive Package Label
For Your Added Convenience… and At No Extra Cost To You!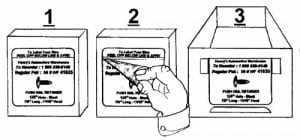 Mission Statement
Our Mission is to provide a wide selection of automotive and autobody supplies at the best wholesale prices, and deliver orders quickly and accurately from our warehouse in Pittsburgh, Pa.
We've partnered with automotive fastener suppliers across the country to provide you with the best possible selection and price. Collaborating with these manufacturers enables us to provide a huge range of automotive fasteners.
Henry's Automotive website can be use to search by OEM number as well as manufacturer part numbers. Whether you're currently using Auveco, Disco, W&E, Car-Pak, or Wurth products, you can use our site to help cross-refence those part numbers to Henry's part numbers. Our websites cross-reference has also been updated after the recent acquisition of Car-Pak and W&E by Auveco. If you can't find what you're looking for, just call us. We special order items all the time, and if it's something that you use on a regular basis, we'll start stocking it for you. Our friendly and knowledgeable staff is here and ready to help you streamline your automotive fastener and supply ordering, and to help save you money!